Queen of Katwe is the kind of movie that makes you want to learn chess. Based on a true story, the narrative follows a young Ugandan girl rising from the slums and becoming a national chess champion whilst experiencing the cruelties of poverty and the feelings of fame.
Introduced to the board game through a local ministry, Phiona (Madina Nalwanga) finds she has natural talent. Her mother (Lupita Nyong'o) is suspicious, but allows her daughter to begin traveling and representing her country in tournaments. The story highlights the struggles of a someone who tastes another world and yet still resides in poverty.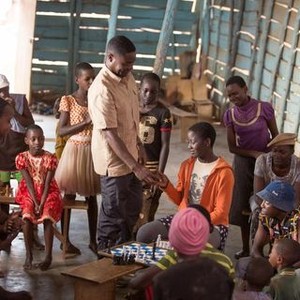 The inspirational tale compliments the beauty of the Ugandan sounds and color. At times the accents make the dialogue difficult to understand, but the actors do a fantastic job of conveying the culture. Lupita Nyong'o was so convincing as the mother that I hardly recognized her. While not as brutal as some other illustrations of ghetto life, such as Slumdog Millionaire, Queen of Katwe offers a stirring story that is accessible to younger viewers.
I highly recommend giving it a watch
Veronica A.